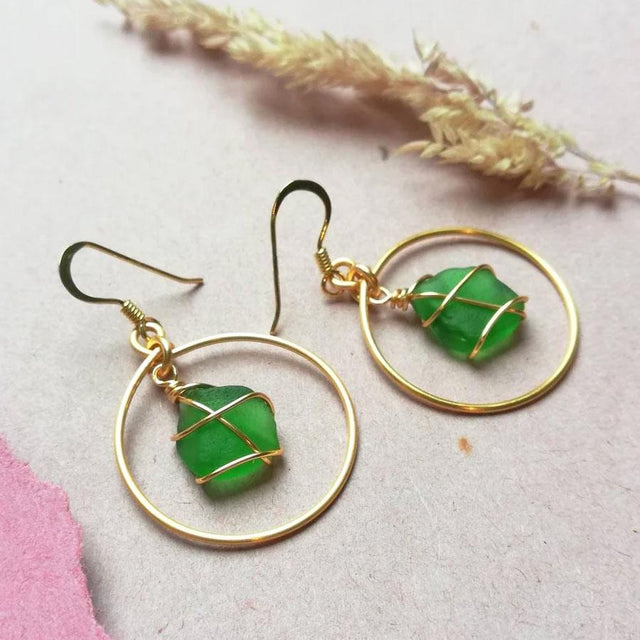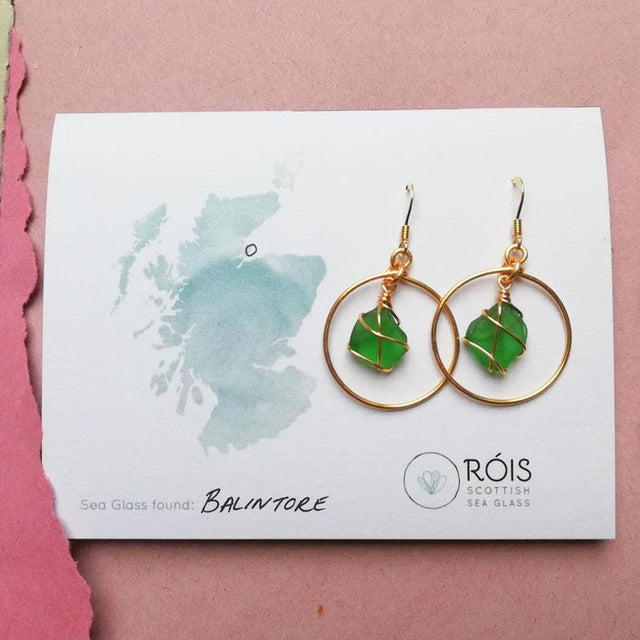 by Maia Gifts
Bright Green Sea Glass Gold Hoop Earrings
Key Features
Bright green Scottish sea glass
Gold coated wire
Sterling silver filled hooks
Pendants - approx 3 cm x 2.5 cm

Presented in a gift pouch
There is so much beauty in walking along the shore and picking up little pieces of the sea! These unique drop hoop earrings capture that sentiment perfectly!
The stunning pieces are made from sea glass found on Scottish beaches. The gold wire detailing and hoops enhance their vibrancy and create an eye-catching design.
The hoops are presented on a card with a map of Scotland, marking the spot where the pieces were picked up. There will be very slight variations as no piece of sea glass is exactly the same, making each pair truly one of a kind.

Róis has discovered the joy of creating jewels out of broken glass that has been smoothed and shaped by the Scottish seas. The designs considers the journey of sea glass to be a beautiful portrayal of life redeemed by a glorious creator. Beauty is beauty, yet there is none more captivating than when it rises out of brokenness.
Some of the places where pieces of sea glass was found include Orkney, Wemyss Bay, Iona, Shetland, Seamill, Kiltearn, Chananory Point, Cromarty, Arran, Ullapool, Loch Tay, Loch Lomond, Skye, North Berwick, Millport and St Andrews.
The force of the waves turned into delicate beauty!